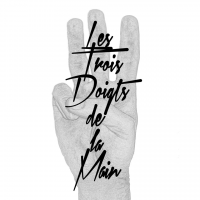 Les Trois Doigts de la Main
De la musique, oui, mais de la bonne !
52 videos
MURS, "'67 CUTLASS" | prod by Ski Beatz | from "LOVE & ROCKETS VOL 1" out now
161 vues
Ajoutée Jul 4, 2014
http://twitter.com/murs
http://twitter.com/skibeatz
directed by http://hobostewd.com
buy "LOVE & ROCKETS VOL.1" at http://itunes.apple.com/us/album/love-rockets-vol.-1-the-declaration/id470396116


Cali underground rap legend Murs proudly presents the music video for "'67 Cutlass", his newest from Love & Rockets Volume 1: The Transformation, his new album produced entirely by Ski Beatz, the man behind classic tracks for Jay-Z, Mos Def, Camp Lo and many more. Love & Rockets' cover art was designed by Dave Barnett, the talent behind covers for Curren$y's Pilot Talk series. The album features O.C., Dee1, Tabi Bonney, Ab-Soul and Locksmith, and is available on iTunes, Best Buy and mom 'n pops worldwide.